Sending money online, whether you're splitting the check at lunch, paying your share of the bills, or buying something via Craigslist, is easier now than it's ever been. There are tons of services that make it easy to transfer money with a phone number or email address. This week we're looking at five of the best, based on your nominations.
Earlier in the week we asked you what your favorite methods to send money online were, and which you trusted to provide the best security, speed, ease of use, and low fees. You responded with tons of options, but we only have room for the top five. Here they are, in no particular order: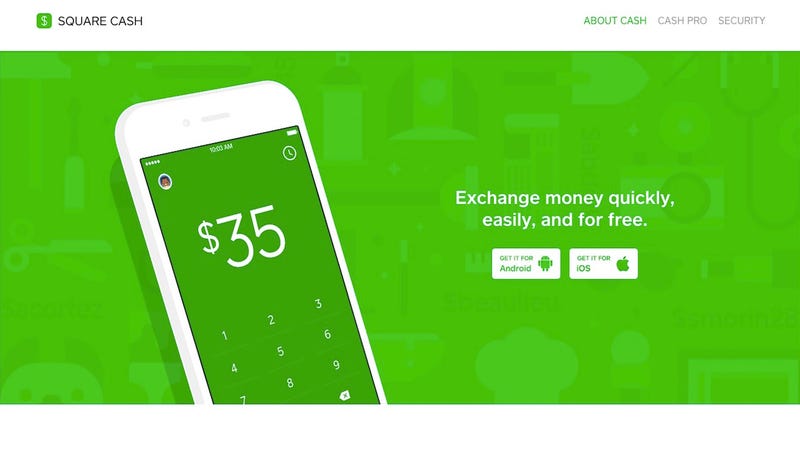 Square Cash is fast, flexible, available for iOS and Android, and lets you send money to other individuals in minutes. All you need for an account is a smartphone and an email address, and of course, the debit card you'd like to connect your Square Cash account to, and that's about it. From there you can send and deposit money easily. You can even create what the service calls "$cashtags," or custom names that identify you and make it easy for other people to use Square Cash to send you money—you can add it to an email signature or put it on a business card or whatever. Best of all, money transfers with Square Cash are free, meaning they don't take a cut of your transaction, and they don't charge you fees for sending or receiving money. If you're a business user, they take a 1.5% cut of your transactions, but individual users don't pay a dime.
Those of you who supported Square Cash's nomination glowed about it—some of you praised the service for their speedy, easy money transfers, and many of you highlighted the fact that the money is often in your bank account within minutes, instead of waiting days to clear like other services. Some of you said that the fact that they let you do all of this for free is akin to magic, but you weren't complaining. A few of you rightfully pointed out that Square Cash is US only, which makes it off limits to a lot of people, but for those people who can use it, it's a windfall. One of you even mentioned you use it to send money even though you and your spouse have accounts at the same bank! Read morein its nomination thread here.
---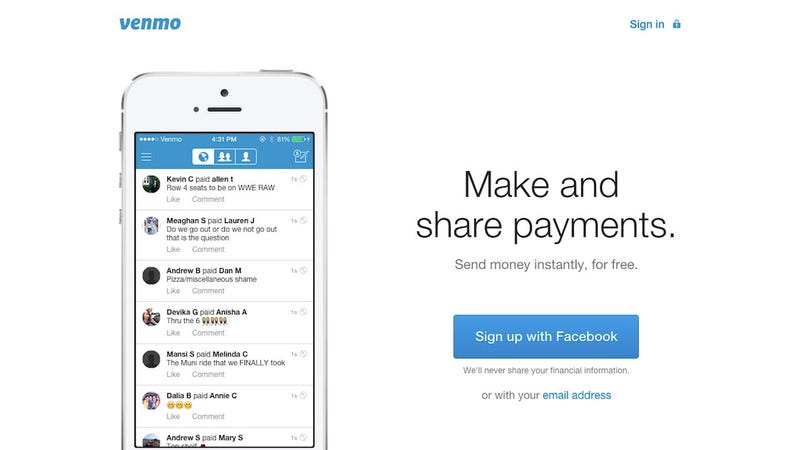 If you're looking for the company that really started the whole "send payment from your phone easily" craze, it's probably Venmo. The app (available for iOS and Android) is extremely popular, and makes it easy to send payments to anyone with a phone number or email address, completely free. Sending money from your Venmo wallet or a connected debit card or bank account is free, and receiving money is free—you only pay (a 3% fee) if you want to send money from a credit card or non-major debit card (you can see what's "major" and what isn't on their pricing page.) Once you have an account, sending money is as easy as sending cash you already have in your Venmo account (you can use it as a wallet if you choose) or through a linked bank account or debit card. Those transactions can be public or private (and the public ones can be hilarious), and you can either cash out the money you have in Venmo to your bank account, or leave it there for future money transfers. Money you cash out is usually in your bank account within a business day.
Many of you praised Venmo for having the largest userbase of many of these services (even though it's technically US only), and for being big enough that you know you can offer to send someone money via Venmo and they either have an account or have heard of it. Venmo has had its security problems, aswe noted in this post on money transfer security, which more than a few of you called out as reasons to think twice about using the service, but others said that it was secure enough for you, and the anti-fraud protections your bank offers made you feel at ease. Others of you praised it for being fast and easy and for letting you keep a wallet of funds, so not every transaction has to go back through your bank, and others mentioned that it's got that "all the kids use it" air about it that means it's easy to find people—especially younger people—who use it. it's also important to mention that Venmo is owned by PayPal, another contender in this roundup. One of you said Venmo is "like their fun teen brand," and that sounds about right. Read more in its nomination thread here.
---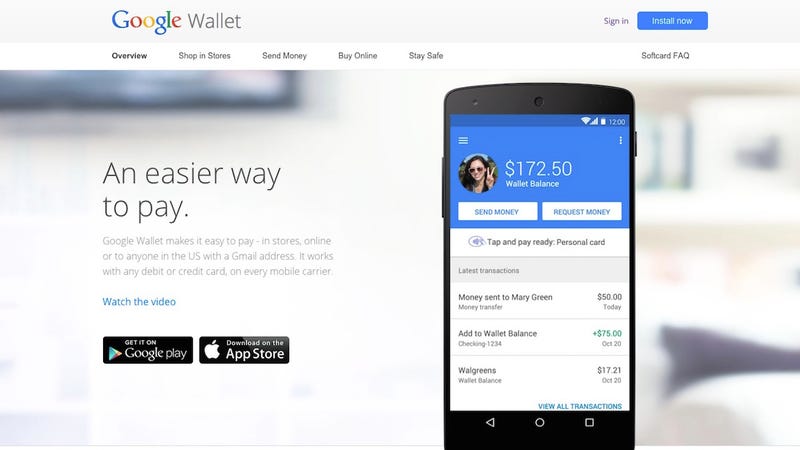 Google Wallet definitely lets you send money to people quickly and easily, that's true, but the service is much much more than that. All your recipient needs is a Gmail address (and to live in the US, although the service is experimenting with international users), and you can send them cash from your Google Wallet account, or from a linked debit card, bank account, or credit card. Google Wallet is available for Android and iOS, and in addition to being an easy way to send or receive money, if you have a phone with NFC, you can use it for contactless payments in brick-and-mortar stores, to check out when shopping online, and even use the Google Wallet card as a physical card (backed by Mastercard) that's tied to your Google Wallet account. Using Google Wallet is fast and easy, and money cashed out from your account to a bank account or debit card takes about a day or so to land, if that much. Plus, it's free to send money from your wallet, debit card, or bank account (it only costs money if you use a credit card), and it's free to receive money as well. Best of all, since all a person needs is a Gmail account to use Google Wallet, odds are they already have it as a payment option, even if they don't actively use it.
Those of you who nominated Google Wallet pointed out that those instant cash transfers are great, and the ability to easily send money to people combined with the fact that you can use Google Wallet to pay for things at retailers or online makes it a logical do-everything option if you want one app that can handle just about everything. Plus, like we said—all the other person needs is a Gmail account and they have Google Wallet. You don't have to get them to sign up for anything, just ask for their email address. Combined with the fact that Google just announced Android Pay, which may either be a replacement for or improvement on Google Wallet, the option is about to get even more useful. You can read more in its nomination thread here.
Source:http://lifehacker.com/five-best-ways-to-send-money-to-other-people-online-1707846074